How New Teachers Can Support Special Education Students in General Education Settings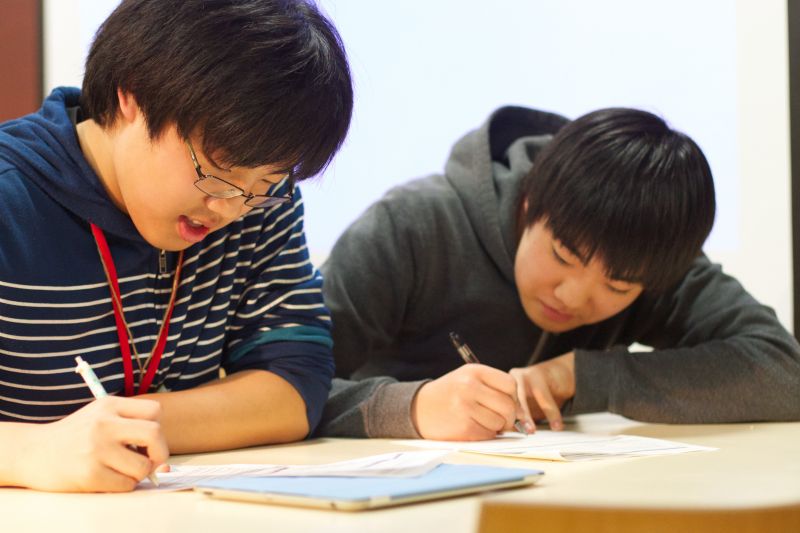 Most educators agree that the best place for students with learning disabilities is in the general education setting. Therefore, accommodating special education students in general education classrooms is imperative. This calls for increased differentiation of general instruction to make content accessible to special education students.  
It also calls for heightened awareness of the unique learning needs of special education students.  Although new teachers may experience difficulty addressing the individual education plans of their special education students while also managing a full classroom of general education students with diverse needs, they are still legally bound to comply. In a recent twitter chat addressing inclusion strategies for special education students, guest commentators seasoned on the practice of serving students with IEPs joined new teachers enrolled with Rutgers Alternate Route to unpack challenges and identify best practices related to special education. 
Veteran commentator Eric Fieldman, a Collingswood High School Teacher of Special Education, highlighted the importance of maintaining high expectations for special education students. Students with learning disabilities can achieve at high levels when they are empowered by teachers who believe in their academic potential and who implement with fidelity the supports identified in their IEPs. Fieldman not only reinforced this in his tweet, but he also championed the idea that special education students must commit to trying new learning tasks and avoid using their learning disability as an excuse.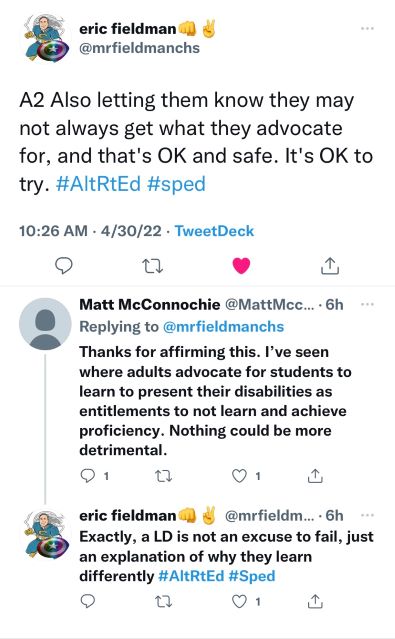 Christopher Harris, a principal based in Pennsauken, New Jersey, has been volunteering as a guest commentator for three years and offered his usual great advice. He underscored the importance of knowing our students' interests and also knowing their strengths. For example, if a student loves to play soccer, find ways to incorporate references to the sport to introduce new content and to demonstrate mastery of learning concepts. If they learn best by engaging in tactile and physical experiences, be sure to include movement and hands-on activities in your lessons. Harris also encouraged candidates to over-plan to avoid the risk of leaving special education students idle with unfocused downtime.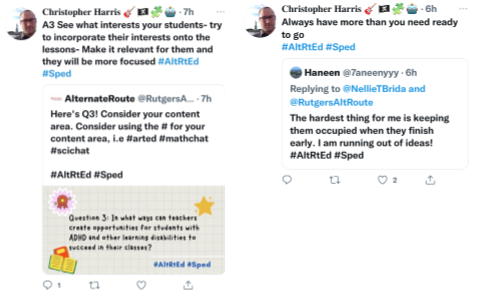 Guest commentator Nicole Biscotti was new to our chat, but she boasts of a long history in special education as a veteran educator. When one candidate discussed his interest in making his classes more movement-oriented, Biscotti recommended the book Learning on Your Feet: Incorporating Physical Activity into the K–8 Classroom, a resource by Brad Johnson. Biscotti's own book I Can Learn When I'm Moving: Going to School With ADHD and her twitter feed are tremendous resources for innovative ways teachers can help special education students learn and demonstrate understanding of concepts. 
Candidate comments were equally insightful, like this one from elementary school teacher Karlene Cox, a candidate at our Newark site who reminded participants of the importance of monitoring the success of behavioral or academic support we offer, a practice in line with Response to Intervention (RTI) research.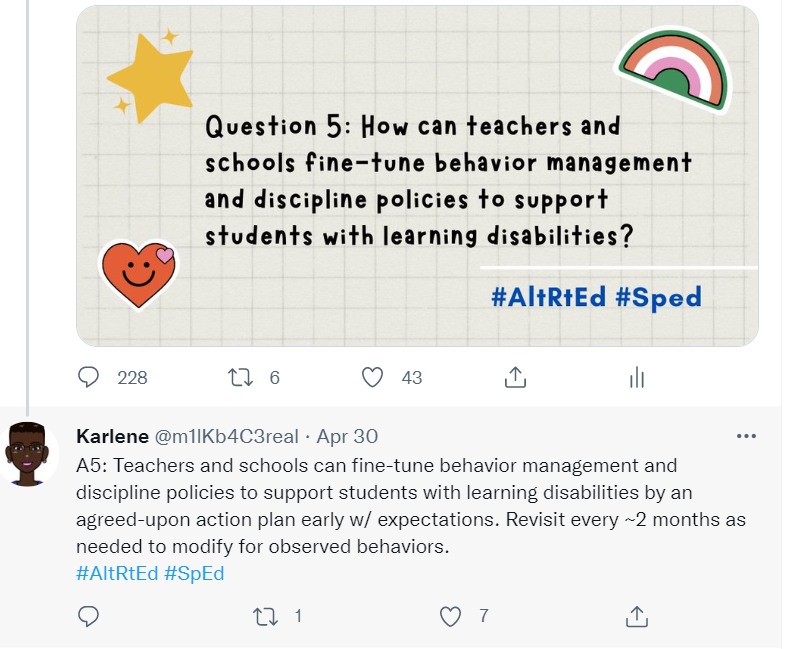 Charting progress through scheduled checkpoints can help teachers determine if their plan of action is working for a student or if a new direction is needed. This practice is also useful for ensuring implementation fidelity, and it is applicable for monitoring interventions for any student demographic-not just those with learning disabilities. 
There were many important ideas from other candidates ranging from asking students what works best for them and keeping parents involved and informed to scheduling brain breaks for students and exercising patience with exceptional learners. 
These Twitter Chats always yield a bevy of great ideas, so we've curated them in the Wakelet below where other educators can avail themselves of the resources and insights shared during this professional learning experience. 
  
How New Teachers Can Support Special Education Students in General Education Settings #AltRtEd #Sped
 The curated discussion is a clear demonstration of our candidates' readiness to effectively serve students with IEPs. What's more is that 99% of candidates reported being fully knowledgeable about inclusion strategies for students with learning disabilities following the chat which represents a significant increase from the start of the chat where some candidates were either only slightly aware or completely unaware of these important strategies.